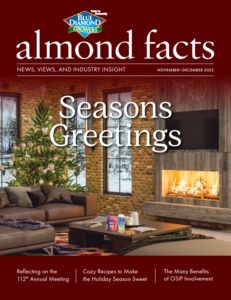 Almond Facts, November-December 2022
This issue of Almond Facts reflects on highlights from the 112th Annual Meeting including special messages from President/CEO, Mark Jansen and Chairman of the Board, Dan Cummings. The issue also includes an article from Ag Council on shaping ag issues and working together, while Dr. Dan Sonke gives greater detail on the Climate-Smart $45 million USDA grant.
*Please note that the PDF file is large and may take a couple minutes to load.