Providing One Voice for Blue Diamond Almond Growers
"Everyone owes a part of one's time and money to the industry in which one is engaged. No one should withhold support from an organization that is striving to improve the conditions within one's business."
—Theodore Roosevelt
As a grower-owned Cooperative, Blue Diamond works on behalf of our growersto advocate on issues important to the Cooperative and promote a better understanding of Blue Diamond and the almond industry. As the world's leading almond marketer and processor, it is our responsibility to develop sound government affairs strategy for our cooperative, grower-owners, employees, and business operations.  Our goal is to create effective regulatory and legislative cooperation on issues that directly affect Blue Diamond, California almonds and agriculture.
Cooperation is a powerful tool with those who influence our business. It provides an opportunity to build relationships with congressional and legislative representatives who understand agriculture and want to help growers continue to produce the best quality and safest food supply in the world.
---
Political Action
The Blue Diamond Political Action Committee allows the cooperative to maintain a strong voice in the state and federal legislature and administrations.  The PAC provides Blue Diamond the opportunity to build relationships and support Members who are champions of agriculture and the almond industry. Through the Blue Diamond PAC, our grower-owners have a collective voice in California and Washington D.C.
OR
After completed, please send the PAC Contribution Form to Mallorie Hayes, Public Affairs Manager at Mhayes2@bdgrowers.com
To receive more information about the Political Action Committee, please contact:
The Blue Diamond Public Affairs Team
Phone: 916.446.8326
---
Our Partners
The Agricultural Council of California is a trade association dedicated to the enhancement and growth of agricultural cooperatives and their producer-owners. Founded in 1919, the Agricultural Council has been promoting and protecting California's agricultural cooperatives for over 80 years.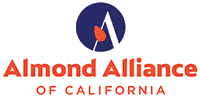 The Almond Alliance of California was established in 1980 to serve almond growers as the only trade associate fully dedicated to advocating for and protecting growers' investment in the almond industry. Representing 80 percent of the almonds processed in California, the alliance is committed to innovative leadership and advocacy, ensuring the sustainability and success of the California almond community.
California Chamber of Commerce (CalChamber) is a not-for-profit organization committed to helping California businesses survive and thrive while complying with complex laws and regulations. Blue Diamond is a member of the board of directors of CalChamber and serves on its public affairs committee.
The California Manufacturers & Technology Association (formerly the California Manufacturers Association) works to improve and enhance a strong business climate for California's 30,000 manufacturing, processing and technology based companies. CMTA represents 400 businesses from the entire manufacturing community — an economic sector that generates more than $300 billion every year and employs more than 1.2 million Californians.