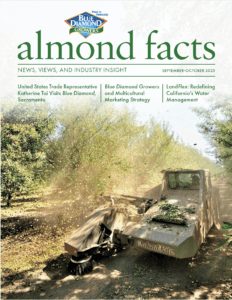 Almond Facts, September-October 2023
This issue of Almond Facts focuses in on the final crop return, introduces the Grower Connect Marketplace, discusses the launch of the USDA Partnerships for Climate-Smart Commodities Grant Program, and post-harvest activities.
*Please note that the PDF file is large and may take a couple minutes to load.
What's Inside
President's Corner

Kai discusses Blue Diamond's competitive crop return this year, despite challenges to the start of this year's harvest. Want to hear more about Kai's FY24-FY26 Strategic Plan? Register for the 113th Annual Meeting on Nov. 15 in Modesto.

Ambassador Tai

Blue Diamond recently had a visit from United States Trade Representative Katherine Tai. After a tour of the Sacramento manufacturing and innovation facilities, Ambassador Tai participated in a round table with representatives from the California agricultural industry.

Amazon

Blue Diamond's Lorena Nuñez, Senior Brand Manager, tells Almond Facts how Blue Diamond partnered with Amazon to reach U.S. Latino consumers with Spanish language advertising. Lorena shares the study's results and the benefits that Blue Diamond can anticipate from multicultural marketing.

Morgan Oliveira

Hear how one of last year's Blue Diamond Scholarship Foundation recipients is pursuing a career in agricultural communications. Morgan Oliveira has a strong agricultural background and a passion for representing the California agricultural industry to the public. Hear a little of her story and see how your Blue Diamond Scholarship Foundation donations are at work.