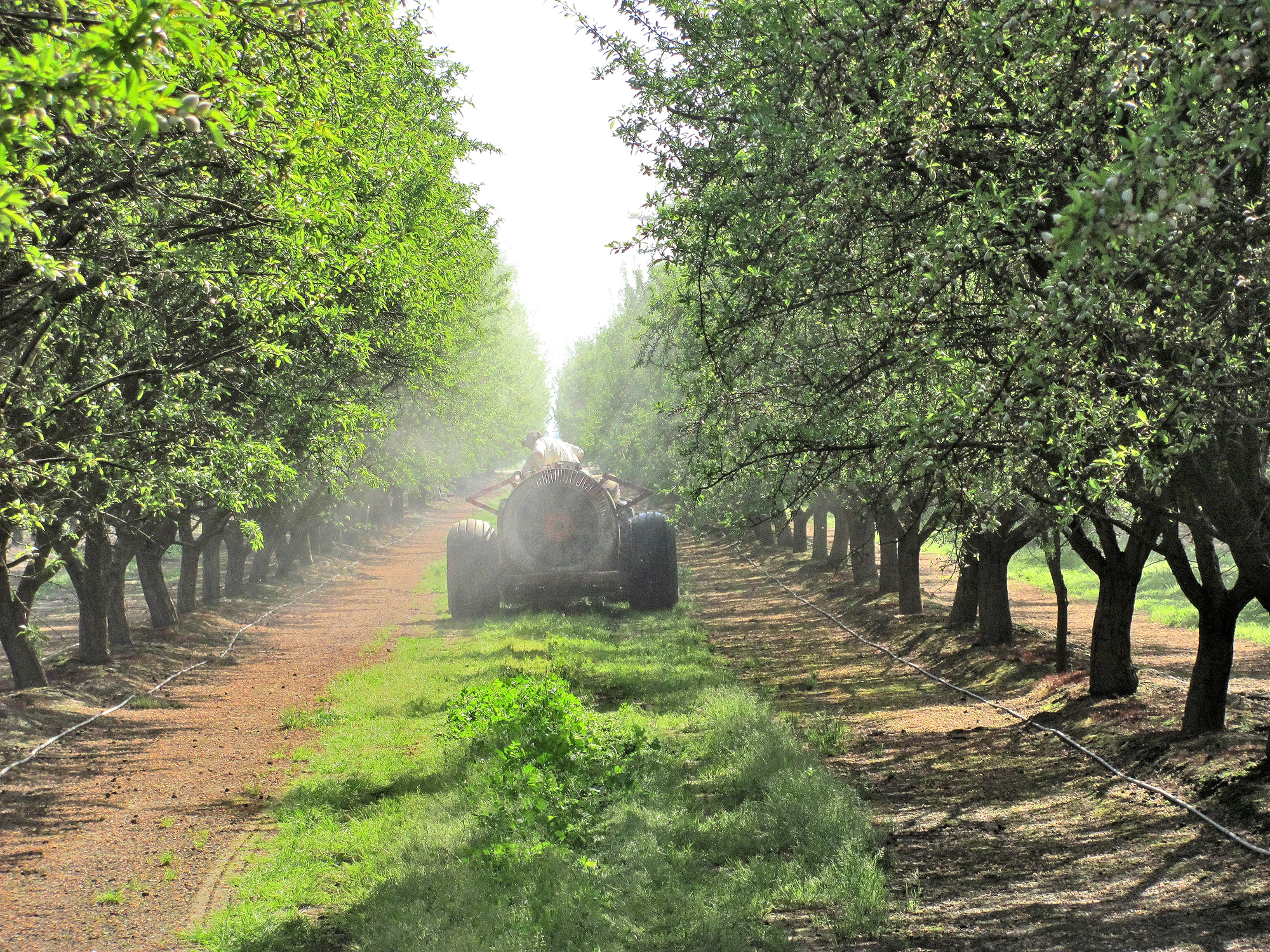 This report covers conditions and observations made between Monday, March 19 and Sunday, April 1, 2018. The next scheduled report will be posted on Monday, April 30, 2018. In the event of any significant occurrences prior to that date, this site will be updated as soon as possible.
Warmer temperatures and sunshine have assisted trees in setting this year's crop. The first nutlet drop is complete in most varieties and what nutlets remain have broken through their protective jackets and are sizing normally. Damage from frost during bloom appears to be less significant than originally thought. While some areas were significantly affected, frost appears to have less seriously impacted fewer orchards than originally predicted. Monterey and Price look to have the best set of any varieties at this point, while Carmel and the rest of the California type pollinizers have an average or better set in most non-frosted areas. Nonpareil set looks inconsistent from orchard to orchard though it is tougher to tell as Nonpareils do not tend to cluster on branches like other varieties and leaves can hide the nutlets. The late blooming Butte and Padre are nearly done breaking through their jackets and shedding excess nutlets.
Cooler temperatures and stormy conditions dominated the third week of March as rain accumulations approached an inch in some areas. Weather patterns began to change on Monday, March 25 bringing a warming pattern that culminated in daytime highs over 80 degrees this past weekend. Skies have been mostly clear and winds have remained relatively calm last week giving trees optimum conditions to set and size their crop.
Growers began applying nutrients as soon as leaves fully emerged. Spray rigs were running through orchards last week applying fertilizer directly to the leaves to try and set as many nuts as possible. Irrigation has begun in regions that did not get as much rainfall and in areas with sandier soils. With significant rainfall in the forecast at the end of this week in most regions, many growers are holding off on irrigating until after the storm passes through.
By Brian Noeller
Photos by Jereme Fromm, KC Stone, Christine Ivory and Ernie Reichmuth
Northern Conditions and Bloom Status
Central Conditions and Bloom Status
Southern Conditions and Bloom Status