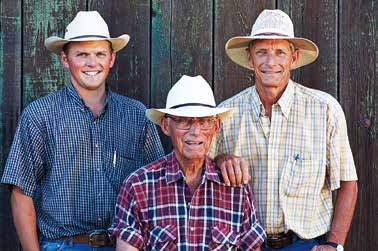 Daniel Bays has always known he would be a farmer, working with his father and grandfather on their family's land near Patterson, on the west side of Stanislaus County. "It's a pretty unique and special experience not many people get to do –spending quality time working with your dad and grandpa," he said.
His path to farming was always clear to him. He explained it was what he grew up wanting to do. "It was always in the back of my mind that it would be nice to come back to the farm but it may not always be realistic or a good option depending on the circumstances," he explained. "I was lucky with the way things panned out to be able to come back after school."
After completing a bachelor's degree in bioresource and agricultural engineering from Cal Poly San Luis Obispo, he assumed responsibility for day to day personnel management, equipment maintenance and operation, and part of the water management and irrigation scheduling duties on his family's land. His degree has come in handy when it comes to managing irrigation schedules, increasing water efficiency and equipment maintenance. "In addition, I use the critical thinking and problem solving skills in everything," he said.
Growing into a Leader
Bays has furthered his education by participating in numerous leadership programs – including Blue Diamond's Young Leader Class of 2014, the Almond Board of California's Almond Leadership Program, and most recently, with the California Farm Bureau's Leadership program. "The programs have helped by giving me the opportunity to meet people outside of my local community and expand my network throughout the state and country," he explained. "I have had research opportunities, been exposed to a variety of benefits available for growers and had the opportunity to be involved and grow as an industry leader. I hope by participating, I'm benefiting our own operation and the community as a whole."
Bays caught the attention of Blue Diamond's Corporate Communications and Public Affairs Director Alicia Rockwell through not only his participation in Blue Diamond's Young Leader program, but also his participation in the statewide agricultural awareness campaign Cultivate California. "He is an excellent example of the next generation of almond growers looking to make a difference in our industry," she said. Rockwell invited Bays to participate with her in a panel discussion on the benefits of leadership programs for cooperatives at the National Council of Farmer Cooperatives' Annual Meeting.
"We discussed the importance of succession planning and helping to train the next generation to grow into director and leadership positions within cooperatives and commodity groups," he explained. "I wasn't sure what I would really have to offer to a corn grower from the Midwest but I think I was able to connect because there are commonalities that we all share as agriculturalists."
Becoming a Voice for Farming
The drought has brought increased attention on California farming from the media and general public. Bays took it upon himself to try to educate the public on the realities of farm life. "I try to show them the human element of farming, the farmers. We're humans who depend on farming as an industry for a paycheck and a living, but there's a lot of employees in service industries that depend on almonds and apricots and the various crops that we grow in California to support their own families," he explained. "I also want them to leave with an understanding that we do our best to use our resources efficiently. Occasionally I do have to take a step back and do some basic education as far as all food takes water and soil to grow and there's a cost associated with that," he said. "It's a lot more than planting a seed, kicking back and letting it grow on its own, and then coming back six or nine months later. It's really more science, praying, hard work and sweat that goes into it." Mel Machado, Director of Member Relations for Blue Diamond, has known Bays since he was a high school student and has seen him grow into a capable industry representative. "Daniel is a wonderful spokesman for agriculture in general and the almond community, in particular," he said. "He's an absolute pleasure to be around and a joy to work with."
With Hard Work Comes Recognition
Bays was recently awarded the California Farm Bureau Federation's Achievement Award, an honor recognizing the operating efficiency of young farmers and ranchers based on leadership, creativity and proven success. "It feels nice to be recognized but a little embarrassing because there are many other deserving individuals out there as well," he said, humbly. "Hopefully it provides inspiration or interest to someone else who is up and coming and shows them there are opportunities out there for an individual to get involved and grow. Hopefully, it also shows the older generation that there is an interest from the younger generation to carry on the tradition of farming." As the award winner, Bays represented California at the American Farm Bureau Federation Annual Meeting, an experience he greatly enjoyed. "There are many differences between a peanut farmer in Georgia, a vegetable farmer from Michigan, a corn farmer from the Midwest and a tree and nut farmer from California but there are also some issues that we can all share a common interest in, as we all care for the land and have an appreciation for the job we do to feed the world." Learn more about connecting consumers with growers at www.CultivateCalifornia.com and view the Bays Farm profile under Cultivators. Also, follow on Twitter and Instagram @CultivateCA #CAonMyPlate.
View the original article in the March-April issue of Almond Facts.