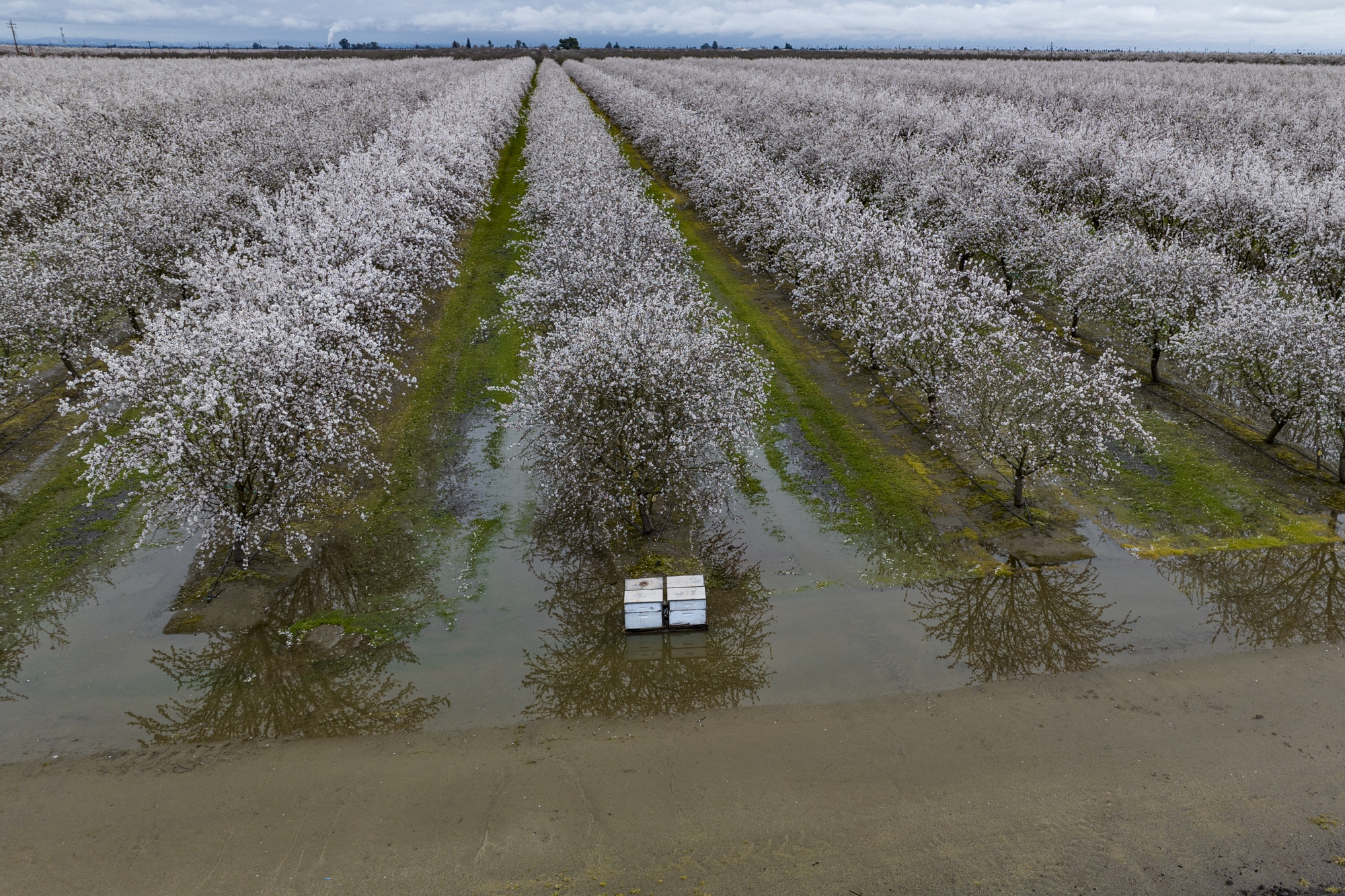 This report covers the conditions and activities observed from February 24, 2023 to March 2, 2023. Written updates will be posted regularly on Fridays throughout bloom and will have a more regionalized focus. Additional updates will be posted as needed.
Cold, stormy weather covered all almond growing regions most of last week as most orchards reached peak number of open flowers. Only the late blooming Butte and Padre have a significant number of buds left unopened. Opportunities for bees to pollinate the crop have been almost nonexistent until yesterday March 2. Cold storms brought lots of rain and wind that kept bees largely in their hives. The weather did not stop the flowers from opening in the Nonpareil, Carmel, Monterey, and California type varieties as most of those cultivars reached peak number of open flowers by mid-week. High winds have accelerated petal fall in most orchards.
"The 2023 almond bloom is stuck in discovery mode," said Madera area Blue Diamond Grower Joey Biscay. "There seems to be a tension between Mother Nature, tepid flowering and bee activity."
Last week's weather has made crop forecasting difficult. Growers are going to have to wait until nutlets begin break jackets in a few weeks in order to judge crop size. There is an opportunity with viable flowers still on the trees for bees to pollinate the crop. Calmer weather should permeate throughout California around a forecasted weekend storm system giving bees a window to pollinate the soon to be peaking Butte and Padre and what's left of the Nonpareil bloom.
Virtually no farming activities took place last week as orchards were too wet to do anything. Growers calibrated spray rigs, completed routine maintenance, and, if necessary, made arrangements for aerial treatments of fungicides to be completed between storms.
By Brian Noeller
Photos By: Ashley Correia, Christine Ivory, KC Clendenin, Ben Goudie, Mel Machado
Northern Conditions and Bloom Status
Central Conditions and Bloom Status
Southern Conditions and Bloom Status