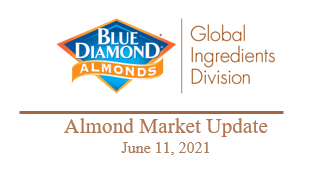 Bill Morecraft
Senior Vice President
California almond industry shipments in May hit the higher end of expectations, reaching 219.4 million lbs, up 65.5 million lbs and 43% from last year. YTD shipments are 2,448 million lbs. With two months remaining in the fiscal year, shipments have already exceeded last year's record and will exceed 2.8 billion lbs by year-end.
The increases for May shipments were spread across the globe. The U.S. was up 12.7 million lbs, China up 8 million lbs, India nearly flat to prior year up by 1 million lbs, Europe up 15.5 million lbs, and the Middle East/Africa up 22.7 million lbs.
U.S. shipments continue at close to 70 million lbs per month since March, averaging 67 million lbs per month for the year. In May and June, the U.S. is lapping COVID impacted shipments from last year and will post significant year over year gains in both months. Full year growth will end above 4%, in spite of the negative impact of COVID on modern U.S. retail for most of the 2020 crop year. There is potential for improved growth next year as grocery and convenience store foot traffic that drives snack nut sales is gradually beginning to pick up after being highly restricted since March 2019.
Year to date, the biggest shipment growth has come in export markets. Inshell shipments of 434 million lbs make up nearly 18% of total shipments and are up 47% from last year. While inshell shipments are slowing down due to supply constraints, India remains the leader in growth increasing 112.8 million lbs or 54%, growing the market to 322.3 million lbs. Shelled almond shipments are up 282 million lbs and 20% globally, creating the base for the overall growth of 21.3%…[Read More]