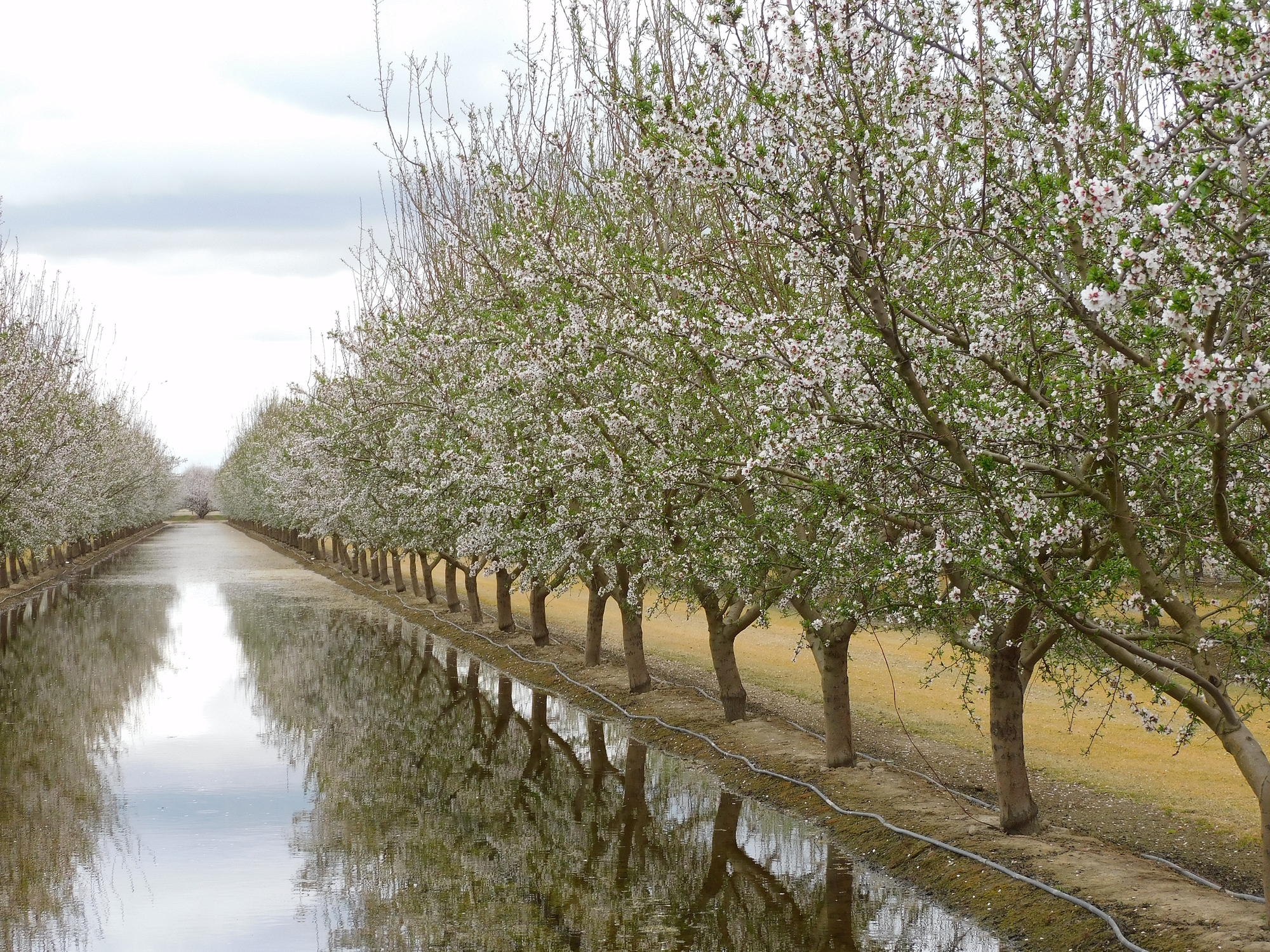 This report covers the conditions and activities observed from February 18, 2022 to February 24, 2022. Written updates will be posted regularly on Fridays throughout bloom and will have a more regionalized focus. Additional updates will be posted as needed.
Bloom is peaking throughout California as temperatures drop to freezing levels overnight. While some damage has been observed in extremely cold spots of the northern region where some limited areas dropped below 20 degrees Fahrenheit. In the other regions, temperatures bottomed out at 26 degrees in the coldest areas. Most of the growing regions will have to wait 5 to 7 days before they can get an accurate assessment of their damage. Growers that had access to water were applying it to raise orchard temperatures by a degree or two. Helicopters had been brought into some orchards to try and move warmer air to the orchard floor. At this stage of almond development, trees are better suited to handle freezing temperatures than it would be in a few weeks when the nutlet is completely exposed and out of its protective jacket. Most growers remain optimistic.
"This year's bloom started a little earlier than last year but finished faster. On February 11 we were at 1% bloom, in the next 36 hours in jumped to 50% bloom," said Traver and Reedley area grower Anthony Balakian. "We survived last night's frost and do not think any damage will show up. The next two nights should be a little warmer and then hopefully we are done with frost for this year."
Colder weather has slowed bloom progression and reduced bee hours. Most orchards attained a peak number of open flowers before temperatures dropped and are shedding petals in both the northern and central region. The southern region is peaking this week in most varieties. Bee hours have been cut in half this week in all regions as colder weather has kept bees close to their hives.
Most growers have been focused on maintaining irrigation systems in order to be ready to take additional frost precautions as cold temperatures are still forecasted for at least one more night. Beekeepers have been actively managing their hives as almond bloom has provided substantial nutrition to promote expansion of the hives.
By Brian Noeller
Photos By: Ken Miyamoto, Meggie Gilbert, Ben Goudie and Mel Machado
Northern Conditions and Bloom Status
Central Conditions and Bloom Status
Southern Conditions and Bloom Status