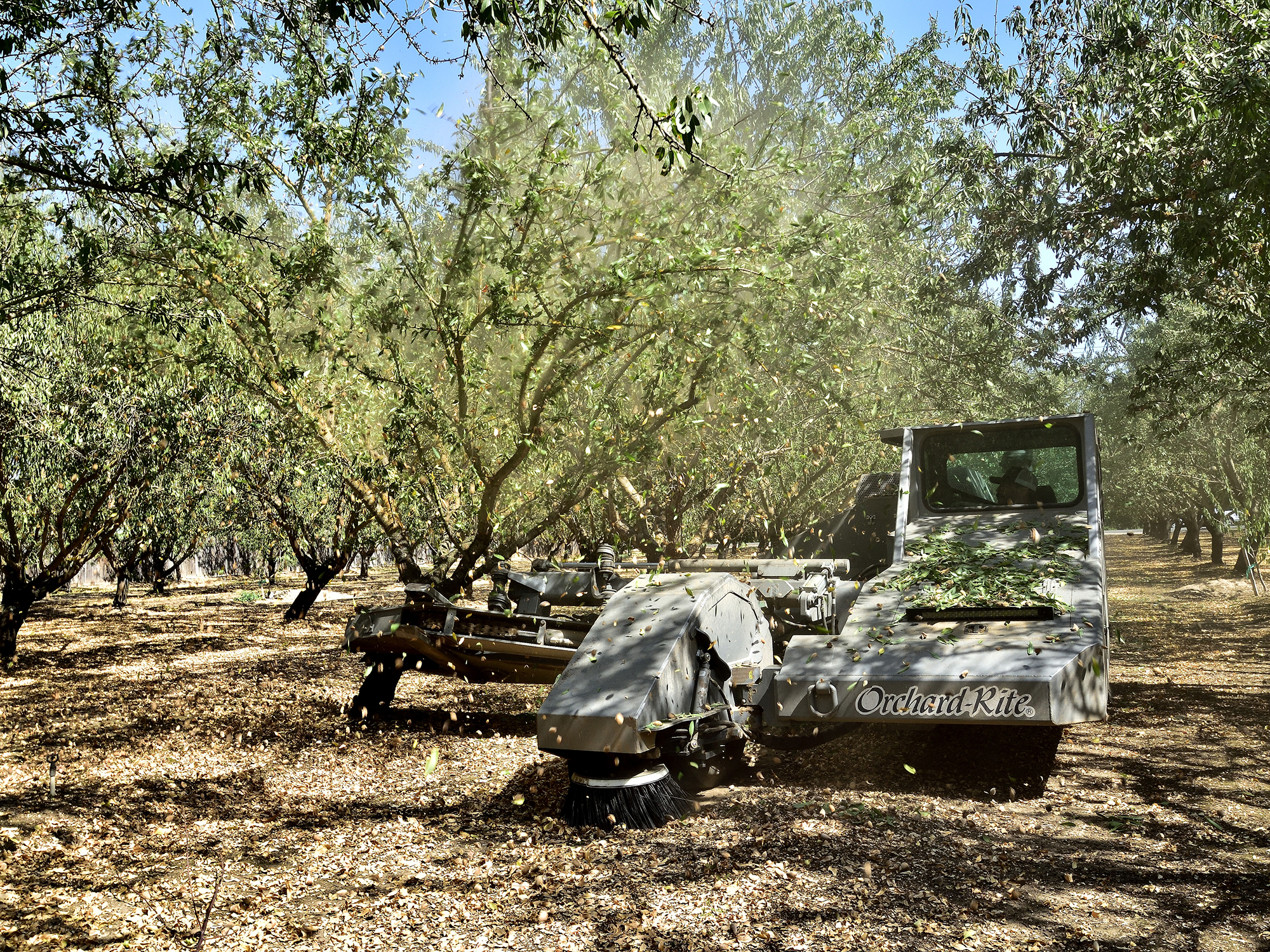 This report covers conditions and observations made between Monday August 30 and Sunday, September 26, 2021. The next scheduled report will be posted on Monday, November 1, 2021. In the event of any significant occurrences prior to that date, this site will be updated as soon as possible.
Daily maximum temperatures adopted a cyclical pattern during September, while also establishing a declining trend during the transition into the fall season. Maximum readings were reported at or above the century mark in the period's opening days. Readings then cycled between upper 90's and lower 80's on three separate occasions, with a declining trend approaching the end of the month. Morning low temperatures followed the trend established by the daily highs, ranging between the mid-50's and lower 70's. The summertime conditions were altered for a short time by the passage of the weakening weather system that swept across the northern half of the state at mid-month. Brief showers were reported as far south as central Stanislaus County. Greatest rainfall totals were reported in the Durham area of Butte County where 0.10 inch was recorded. However, most areas failed to receive enough rain to adequately settle the dust, and the precipitation failed to hinder the harvest.
Harvest operations are running "full swing" in all areas at the end of September. Harvest of the Nonpareil and Independence varieties has been completed and equipment has moved rapidly into the various pollinizer varieties. As this report is being written, harvest equipment has been moving through "early" California variety types, Carmel, and Butte/Padre plantings. Many growers with these types of plantings have already completed their harvest and have moved on to post-harvest tasks. Shakers have also started to bring down Monterey along the Highway 99 corridor and the last-to-harvest Fritz along the west side of the Valley.
Unlike last year, smoke from Sierra Nevada wildfires has not significantly impacted the harvest. Heaviest smoke during the period was reported in the southern San Joaquin Valley, coming from fires east and southeast of Fresno. While visibility in the impacted areas has been reduced to just a few miles on the heaviest days, the sun has not been totally obscured and crop drying has not been significantly affected.
Growers are reporting that yields are generally running lower than the record levels established in the 2020 crop. Those in the Sacramento Valley are reporting the greatest decline from last year's record yields, with growers in the southern San Joaquin Valley reporting better production levels. Naturally, bloom conditions represent the greatest cause of reduced yields. However, water stress has also played a role, as indicated by reduced kernel sizes and lower "turnout" percentages. Turnout is the percentage of the final almond weight, compared to the weight of in-hull product brought from the orchards. This is impossible to determine prior to harvest but provides an early indication of the potential crop volume. Turnout varies between varieties, normally ranging from 22% to 30%, with the balance consisting of hull, shell and debris collected during the harvest. Huller/sheller operators are reporting that turnout values are running 1 to 1.5 points below last year's levels. As a measure of the possible impact on the final crop total, a 1.0% change in turnout on a potential 3.0-billion-pound crop represents a variance of 137 million pounds.
While yields are running lower, reject levels have been rising as the harvest has progressed. Examination of the crop shows that in addition to the regular culprits, Navel Orange Worm and ants, rejects caused by Brown Spot has also been increasing. Generally thought to be the result of feeding by Stink Bugs or Leaf-Footed Plant Bugs some Pest Control Advisors have questioned this, stating that Brown Spot is appearing where there have not been issues with insect infestations.
Huller/sheller operators continue to struggle with the small kernel sizes, sticktight hulls and peelers as noted in last month's report. Quite a few have also reported having difficulties securing adequate labor to process the crop. The availability of truck drivers and equipment operators has been particularly tight this year for growers and huller/sheller managers.
Growers who have completed their harvests have moved on to post-harvest tasks. Replenishing soil moisture levels is the first consideration, especially for those who were unable to irrigate between varieties, i.e., after picking up the Nonpareil and prior to shaking their pollinizer variety. For those receiving water from local Irrigation Districts, growers want to fill their orchard's root zone prior to the end of water availability. Those without water available are left to hope for adequate rainfall during the upcoming winter. Application of potassium fertilizers and soil amendments such as gypsum or lime are also being conducted and machinery can be observed beginning the process of removing older, low producing orchards. These operations will spread across the valley as growers wrap up the harvest of each orchard.
Mel Machado
Vice President, Member Relations
Photos by: John Aja, Ben Goudie, Justin Elam
Northern Conditions and Bloom Status
Central Conditions and Bloom Status
Southern Conditions and Bloom Status